Pawtucket's Downtown Shaping Up
The parcel of land that once previously housed a Sears department store, Anderson-Little men's clothing store, and the underground Down Under Duckpin Bowling Alley – then sat vacant for a period of time – came alive with activity Saturday as the LA Fitness Center at the Pawtucket and Providence line celebrated its grand opening. In The Pawtucket Times, Mayor Donald Grebien explains how the business will help shape up Pawtucket's downtown.
Brewing Project on Tap
The managing partners of Isle Brewers Guild LLC, a craft beer cooperative headquartered at the Kellaway Center at 461 Main St., are seeking a 12-year property tax stabilization agreement, which partner Jeremy Duffy says would "assist us in the critical early years of the project." The project calls for a food and beverage related complex that the developers say will bring activity and jobs to downtown Pawtucket. So, just how many jobs? The Pawtucket Times has those details, plus how much tax revenue the plan could mean for the city.
All Aboard the Polar Express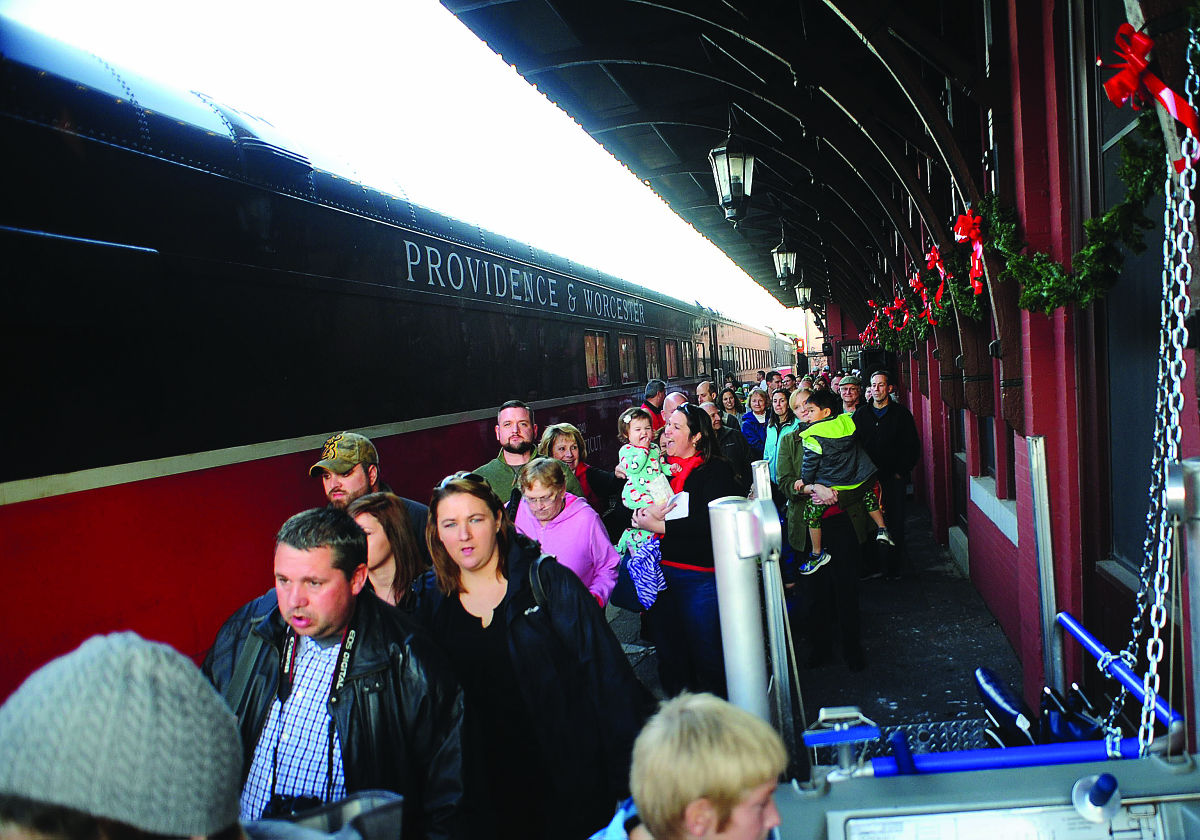 Close to 400 passengers boarded "The Polar Express" train at Depot Square in Woonsocket Saturday afternoon as another season of the holiday favorite — presented by the Blackstone Valley Tourism Council — began for families across the Blackstone Valley. Want to ride? The Woonsocket Call has all the details you need.
Honoring Mounties Who've Served
Every year Mount Saint Charles Academy recognizes its Royal Mounties, alumni who graduated 50 years ago or more. This year was exceptionally special because in addition to this celebration, the Academy took the opportunity to also recognize its veterans, of all ages, who have served in the armed forces. The Woonsocket Call has the details of this special ceremony, including how the school is honoring the veterans.
 Put Down the Rake!
University of Rhode Island Extension Agent Andy Radin has some advice for homeowners who dread the annual chore of raking leaves: stop raking and start mowing. Leaving the leaves on your lawn could actually give your grass more nutrients. But, if you're going to hang up the rake, check out
The Westerly Sun
for more details.
Wired in Westerly
A private fiber-optic ring would increase Internet speed and capacity for town schools and municipal operations and, ultimately, reduce costs, town and school officials say. As currently envisioned the ring would initially run from Westerly High School to Town Hall. Subsequent stages would allow for municipal facilities such as police and fire departments to tie in. So what's the price tag? The Westerly Sun adds it all up.
New Class Offerings in Chariho
Students at Chariho's high school and Career and Technical Center will soon have more options. The Chariho School Committee has approved eight new courses that will be offered. Chariho Superintendent of Schools Barry Ricci said the new classes would provide students with an opportunity to explore different careers. The Westerly Sun details the new courses – from veterinary science to yoga and pilates.
Walking Warrior Takes Journey Through RI
Dave Pierce, 35, of Griswold, a U.S. Marine Corps veteran who joined the corps a week after 9/11 and served three tours of duty in Iraq and Afghanistan, passed through the region this past week on a trek from Portland, Maine, to Voluntown in honor of fellow Marines killed in action or from injuries. The Westerly Sun has more on Griswold's journey and what he's carrying with him.
Runaway Airport Dog Rescued
The dog that bolted for freedom after arriving at Green Airport from Florida on the night of Friday, Nov. 13 has been reunited with his traveling canine partner thanks to an observant postman, a cooperative homeowner and a master tracker with two tracking dogs of his own.  Socks slipped loose while being transferred from his traveling crate to a car at air cargo facilities at Green Airport.
The Warwick Beacon
has more on the efforts to find Socks, and who finally tracked the pooch down.
https://m.facebook.com/photo.php?fbid=10153593936670081&id=596135080&set=o.82603179348&source=48
Ragosta Report May Remain Secret
According to sources, the Ragosta Report, which has been under wraps since it was made to the School Committee last May, was to have been released to the City Council and the mayor yesterday afternoon. But the contents of the report, detailing how the school administration responded to complaints that Gorton science teacher Mario Atoyan drew penises on the arms of two female students, may remain secret for the immediate future, if not indefinitely. The Warwick Beacon has the latest chapter in this ongoing controversy.
Solar Project Shines On
A planned large-scale solar power array in Western Cranston has cleared a significant hurdle with the City Council's approval of a pair of zoning ordinance amendments on Monday. RES Energy Development, a British company with an American division, plans to install a $10-million, 10-megawatt solar farm on nearly 80 acres of land at 840 Hope Road. But it's not all sunshine and rainbows. The Cranston Herald details why critics aren't happy with the project.
Ani's Story of Survival
"Mommy, I don't feel good." Those five words can make any parent cringe and send their thoughts reeling. Calling in late to work, making a pediatrician appointment, missing tests and schoolwork – all these considerations, and more, quickly come to mind. Never does the idea cross anyone's mind that his or her child will be diagnosed with cancer. But that is exactly what happened to Deanna Shapshapian when her then nine-year-old daughter, Ani Ayanyan, was diagnosed with primitive neuroectodermal tumors of the central nervous system (CNS PNET) in October 2013. In a touching story, Cranston Herald Reporter Pam Schiff details this young girl's battle with the disease and how the community rallied around her.
New Dome for Cranston Rink
They are making ice at the brand new "bubble rink" at the Cranston Veterans Memorial Ice Rink. And that is very good news for local ice hockey players who had been left high and dry since a macroburst damaged the old bubble. The Providence Journal details the price tag for the new rink – and why the city couldn't repair the old bubble.
Remembering the Keeper of the Light
The name Ida Lewis is as synonymous with Newport as Bellevue Avenue, the Breakers and America's Cup, just to name a few Aquidneck Island icons. Idawalley Zorada Lewis – later Lewis-Wilson – was an American lighthouse keeper noted for her heroism in rescuing people from the sea. The yachting center located off Wellington Avenue in Newport's Brenton Cove is named for her. Now this week, journalist Marian Gagnon will bring her documentary about Ida Lewis to the Johnston Historical Society. The Johnston Sun Rise has the details if you want to take a trip back in time.
Talkin' Turkey with Johnston PD
It's a rite of November as much as turkey, stuffing and apple pie. It's a terrific tradition that has been around for two decades and builds strong bonds between two important groups, namely the Johnston Police Department and the town's senior citizens. The Johnston Sun Rise has more on this award-winning program, now in it's 20th year.
New Program for Kids on Spectrum
Bradley Hospital has expanded its services to include a program it says is the first of its kind in the nation — partial hospitalization for children ages 5 to 18 who have autism or developmental disabilities along with emotional or behavioral disorders. The goal of the program, part of the Center for Autism and Developmental Disabilities (CADD), is to bridge the gap between inpatient and home-based care to help children and adolescents remain at home while they and their families work on clinical issues. The Providence Journal details how the program would work and who to contact if you're interested in knowing more.
On the Trail of Guns in Providence
The Providence police seize well over 100 guns in crimes each year. Dozens of others are surrendered, found, or turned over to the police. Every gun has a story – but sometimes that story can be very difficult to uncover. The Providence Journal takes a deeper look at the effort to trace guns in the city in hopes to better fight crime.
Park Free in Providence
With the holiday season upon us, people are ready to hit the stores. Shoppers are encouraged to think local, with Mayor Jorge Elorza, local business owners and representatives of the Greater Providence Chamber of Commerce announcing a #ThinkPVD campaign Wednesday.The city will make that easier by offering some free parking. The Providence Journal has the list of free locations.
Tale of Two Communities
Somerset has been planning financially for years for the looming closure of Brayton Point in Somerset. But, as the Fall River Herald reports, Fall River can't say the same. The paper details what the city has been spending its money on.