District reduces teacher layoffs
The district has been able to reduce the total number of layoffs within the school system to approximately 30, which is more than half of what was originally planned. But, as The Warwick Beacon reports, the issue continues to be a point of contention between the administration and the Warwick Teachers' Union.
Solar parks proposed for Warwick
A Warwick resident and certified public accountant versed in the tax benefits of sustainable energy is advancing a plan for two Warwick solar parks that could reduce the city's electric costs while providing tax revenues from properties that render little or no taxes. The Warwick Beacon shines a light on the details.
Bone marrow drive for Warwick baby.
One-year-old Kaydin Almstrom of Oakland Beach was diagnosed with AML Leukemia in November 2015, and he relapsed on June 30. He needs a bone marrow transplant urgently, and you could be the match that helps save his life. The Warwick Police Department will hold a bone marrow drive for Kaydin on July 10 from 10 a.m.-3 p.m. at Police Headquarters, 99 Memorial Drive, Warwick. The Beacon has the details.
Cranston launching 'Explorers' program
A new program that "aims to bridge the gap between our younger citizens and law enforcement" is coming to the city. The Cranston Police Department has begun accepting applications for its Police Explorer Program, which is open to those who have completed eighth grade and are between 14 and 20 years of age. It is set to begin in the fall. The Cranston Herald has more information.
Mom helps parents of premature, sick babies
Between work, family, and other responsibilities, time can often seem a commodity in very short supply. Cranston resident Rachel McNally knows too well just how precious time can be. All three of her children – nine-year-old Ben, and four-year-old twins Hannah and Matt – are alumni of the Women's & Infants Hospital Neonatal Intensive Care Unit (NICU). Now, according to The Cranston Herald, she's using her experiences to help other families in the same situation.
Navy throw JROTC program life raft
throughout the summer of 2015, they played a waiting game. The same game played out during the 2015-16 school year. Now, with the summer ahead of them, cadets in the Junior Reserve Officers Training Corps (JROTC) at Coventry High's Career and Technical Center can exhale. Their program left for dead by the United States Air Force after years of declining enrollment, will be picked up by the Navy. The Kent County Daily Times has the details.
Westerly chief calling it a career
Edward St. Clair, who rose through the ranks from patrolman to police chief, will call it a career after 27½ years when he retires at the end of the month. "I have given it serious consideration and know the time is right for me to look for some new opportunities. I am grateful to the town for having had the opportunity to serve," St. Clair said during an interview with The Westerly Sun. 
Charlestown goes green with new bag program
Practical, attractive, and environmentally friendly, the new Town of Charlestown Green Consumer Initiative bags are selling well in several establishments around town. As The Westerly Sun reports, the washable jute bags are the result of Town Council Vice President George Tremblay's initiative to ban, or at least reduce, single-use plastic bags in Charlestown.
Signs warn beach goers to stay away
Along the far west end of Atlantic Avenue, Misquamicut is astir following the recent erection of two signs warning all but "beach lot owners" to stay off the beach at the end of the road. Many residents of the neighborhood received a single-page bulletin with the same declaration in their mailboxes or attached to the front doors of their homes recently. As The Westerly Sun reports, the signs and the bulletin, which carries a heading, "beach alert," came as a surprise to many who have used the beach for years.
Old library has creative future
A recent ceremony marked the transformation of the former Anne Ide Fuller Library on Dover Avenue in East Providence into the Fuller Creative Learning Center, but the search is continuing to find someone to serve as director of the facility. Read more in The Times.
Missionaries converging on Woonsocket
Traveling from hundreds of miles away, a small army of young Christians is due to arrive in Woonsocket later this month to do God's work – with hammers, nails, and elbow grease. Details are in The Call.
Pooches still allowed at WWII Park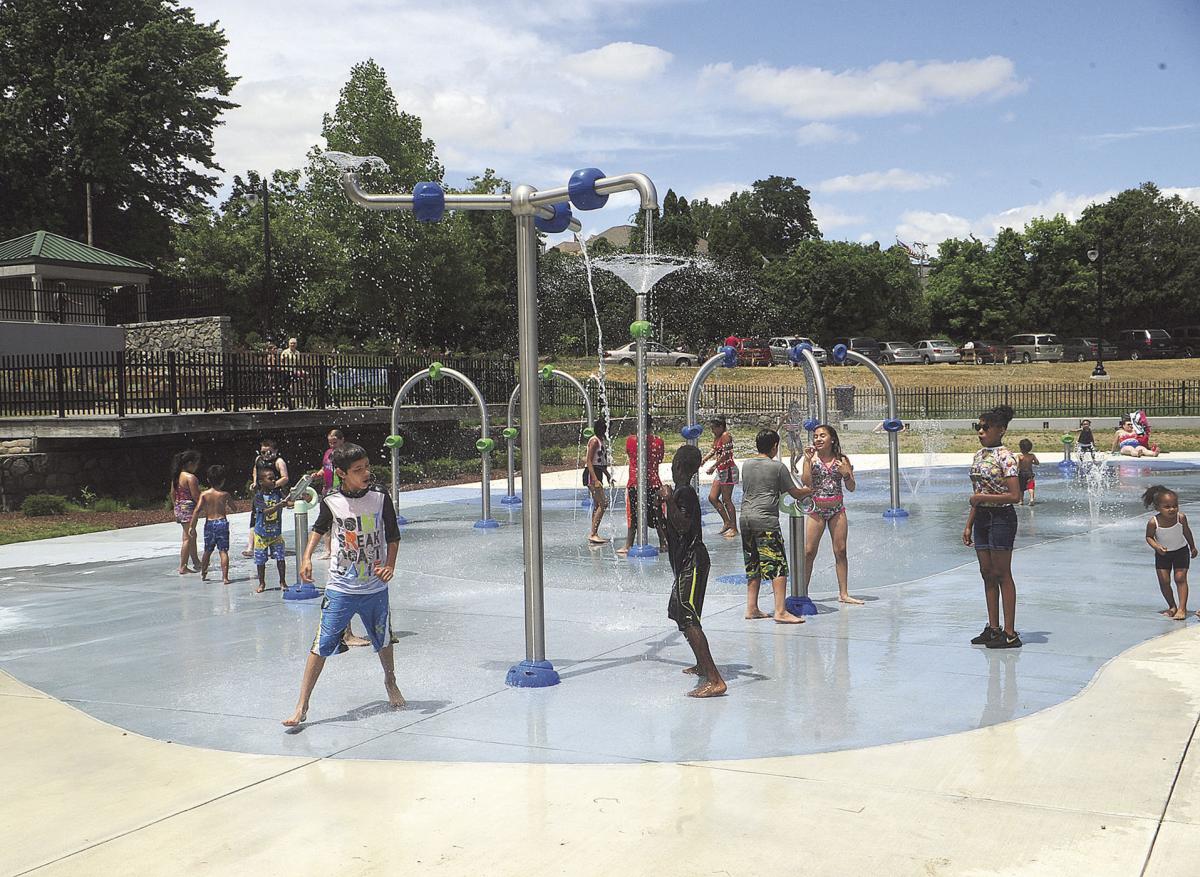 A push by the administration of Woonsocket Mayor Lisa Baldelli-Hunt to make the spiffy new World War II Park a dog-free zone has been rejected by the City Council, which prohibited canines from everywhere except the walking trails at the facility. In addition, the council added the stipulation that pet owners must have dogs on a leash. Learn about it in The Call.
Super Meeting planned in Millville
In an unprecedented move, Blackstone and Millville will hold a super town meeting at 7 p.m. on July 19 to resolve an impasse over the Blackstone-Millville Regional School District's 2016-17 budget. The Call has the story.
Benny's offering respectful retirement for American flags
Once an American flag is no longer fit for service, it's tradition for it to be properly disposed of. However, that's not always an easy task. So, Benny's stores have just started an American Flag Retirement program. The Johnston Sun Rise has more about the program and how it works.
Little League champs honored at city hall
Mayor Joseph Polisena made the Johnston Little League's 2016 champion Louis Press Athletics feel right at home inside his Town Hall Executive Chambers last Friday morning. Polisena welcomed 11 uniformed Athletics, five coaches, and a host of parents for a special ceremony that included several unique presentations. The Johnston Sun Rise has more on the special ceremony.
Dozens gather for 'Black Lives Matter' rally
After a week of lethal gun violence erupted nationwide — in which police were both the shooters and the targets — more than 150 people gathered here for a Black Lives Matter rally in Newport Saturday to call for peaceful changes to address what they called the disproportionate rate of police shootings involving people of color. The Providence Journal has video of the event and more on the what organizers are urging supporters to do.
New plate honors RI Olympians
Fellow motorists honk their horn and wave at Lynne Jewell-Shore, of Newport, on her daily commute to work these days. It's not her car that's grabbing attention, but the Olympic rings on her new Rhode Island license plate. A sailing gold medalist at the 1988 Olympic Games in Seoul, South Korea, Jewell-Shore is one of four Rhode Island residents who picked up brand-new Olympic Medal Winner license plates last month, just in time for the excitement of this year's Summer Games in Brazil. The Providence Journal has details on who has the plates and who's been invited to get one.
The Ins and Outs of ProvPort
Bananas, pineapples, and pears — thousands of them — stream across the docks on their way to supermarkets throughout the Northeast. A crane unloads a shipping container of merchandise bound for CVS stores. Used Toyotas hop a freighter for West Africa. These are examples of the long-term vision, maybe decades away, that city and state officials have for a half-mile stretch of the Allens Avenue waterfront best known in recent years for strip clubs, zoning fights and failed redevelopment plans. But as Patrick Anderson reports in The Providence Journal, not everyone is sold on the idea of ProvPort.
Waging war against monument vandals
Several weeks ago, Fall River's Iwo Jima monument was marred when suspects smashed a plastic enclosure that stored a Purple Heart medal and a vial with sand from Iwo Jima. Several light fixtures on or near the memorial have also been smashed in recent months, while a 48-star flag was stolen back in 2014. Now, The Fall River Herald News details plans that are in the works to keep vandals at bay in the future.
Westport police, fire score approval for new equipment
Public safety got a boost at the last selectmen's meeting in Westport. Selectmen acknowledged that through good budget management the police and fire departments were able to garner approval for some new equipment, including a device that could help save the lives of heart attack victims. The Fall River Herald News has more on the price tag.
Local soccer players looking to score at nationals
Four local soccer players will be out to defend their national title when they head to Aurora, Colorado on July 22-25 to vie for the U.S. Club Soccer National Cup. The Fall River Herald News has more on how the players got to this point of the season.