Cover Dog: Warwick K9 featured in calendar
Warwick Police Departments K9, Viking, will be featured on the cover of the Vested Interest in K9 2017 color calendar. The calendar showcases nationwide law enforcement dogs. Sales of the calendar support the purchase of bullet and stab protective vests for working K9s. The Warwick Beacon has more about the calendar and how you can order one.
Warwick unveils new mapping system
A new digital system for accessing the geographical information in Warwick was launched Tuesday in an effort to maximize usability among residents for online property data. As The Warwick Beacon reports, visitors can research information about a property by inputting an address into the search engine and selecting various options to see tax maps, land-use data, the tax assessor's database, FEMA flood insurance maps, aerial orthophotography, elevations and street maps.
Chafee looks to sail in Tokyo games
Even though Louisa Chafee's bid for an Olympic medal was unsuccessful this summer, the former governor's daughter hasn't lost that passion to compete and she has her eye on the 2020 summer games in Tokyo. She is already working toward the 2020 games, looking to gain 15 pounds, weight she could have used at Rio. Staying strong enough is something she thinks about and works at. The Warwick Beacon has more on Chafee's quest.
GOP wins council majority in Cranston
Cranston residents were among the millions of voters who made their voices heard on Election Day. The Cranston Herald has more on how some of the local races in the city shook out, including a changing of the guard for city council.
Drum & Bugle Corps Competition returning to Cranston
On the heels of a successful first performance at Cranston Stadium this past summer, the annual Fourth of July Drum and Bugle Corps Competition Summer Music Preview will return to the city once again in 2017, Cranston Mayor Allan W. Fung announced Monday. The 28th annual show, which features drum and bugle corps from around the country, is scheduled for July 3. After such a successful experience this past summer, Summer Music Preview Chairman Tony Mederos tells The Cranston Herald the show will be even bigger next year
Westerly man among new GE employees
When Gov. Gina Raimondo announced that a General Electric Digital information technology center was opening in Providence in June, Ashish Singh quickly updated his resume and clicked "send." "I saw that GE was coming and I approached them," he said. "They were always on the top of my list as a place I wanted to work." The Westerly Sun has more on Singh and why he says even if you don't have a computer or technical background, there may be a job for you.
Chariho charged after weapons found
A 14-year-old is facing charges after police said he brought an Airsoft pistol, a folding knife and several nips to a varsity football game on Friday. The 14-year-old, a male who was not identified due to his age, was charged Friday with possession of a firearm, possession of a knife with a blade over 4 inches and possession of an alcoholic beverage by a minor. The Westerly Sun details how the arrest went down.
Wakefield resident scores art show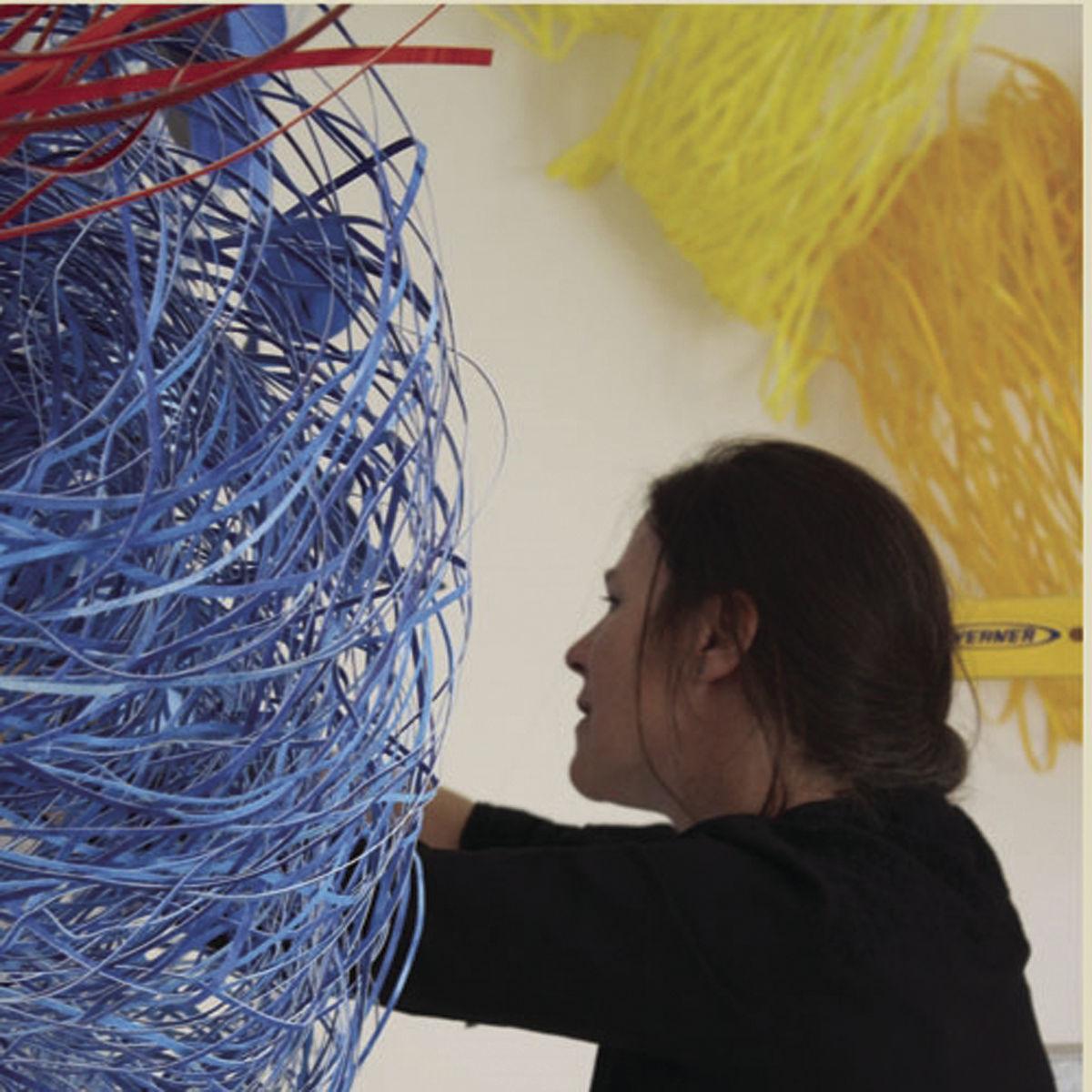 From now through Dec. 3, members of the public will get the chance to get an in-depth look at the artistic process of artist Barbara Owen. A resident of Wakefield, Owen said she's excited to be showing a series of work, titled "Inflorescence," at the Jamestown Arts Center. Southern Rhode Island Newspapers has more on how Owen scored her own showing.
Group promotes farmland leasing
Available farmland is scarce in Rhode Island but new farmers can often get started by leasing acreage from landowners. Reaching out to these landowners and extolling the benefits of leasing has become a passion for Tess Brown-Lavoie, Rhode Island field agent for Land For Good, a nonprofit whose mission is "to ensure the future of farming in New England by putting more farmers more securely on more land." The Westerly Sun has more on the program.
Searching for Clues
Police divers recently searched a pond in a Providence golf course for evidence related to the unsolved slaying of octogenarian Stanley J. Stowik Sr. of Cumberland, but investigators found nothing of value after several hours. Cumberland Police Chief John Desmarais said the search came after police received a tip, apparently in response to the recent announcement that Stowik's family is offering a $10,000 reward for information leading to an arrest in the case. Learn more about the investigation in The Call.
Pawtucket posthumously honors acclaimed poet
Even if the person you ask for help is someone of noted accomplishment, the answer you receive back might be the one you wanted. That is what the Pawtucket Arts Council found to be true when a number of years ago the founding group behind the city's annual arts festival was successful in securing the services of Rhode Island Poet Laureate Galway Kinnell to judge its annual poetry contest. Read the story in The Times about how the late Kinnell embraced the idea and his recent induction into the Rhode Island Heritage Hall of Fame.
Looking for change in North Smithfield
North Smithfield voters went to the polls last Tuesday looking for change and made sure it would happen in a big way with the election of Gary Ezovski as town administrator while also bringing in some past and new members to join the Town Council and School Committee. The results are in The Call.
Home invasion arrest
Three men in their 20s, including one from Massachusetts, are facing felony charges after an armed home invasion recently on Grove Street in Woonsocket. Details are in The Call.
Meat raffle back for 5th year
"Where's the beef?" has been a common cry during recent weeks throughout the Johnston Senior Center. It's the slogan, if you will, for the center's fifth annual meat raffle Sunday, Nov. 13. So, what exactly is a meat raffle and how can you take part? The Johnston Sun Rise has the details.
Westport animals find sanctuary in Tiverton
A pair of alpine goats, Maggie and Sadie, were eager to greet their visitors, raising their heads over the fence and all too happy to have a sniff of a human hand or face. "Happy" is the operative word here. As The Fall River Herald News reports, they are just two of more than a dozen animals living the good life these days at West Place Animal Sanctuary on Main Road after being rescued from deplorable conditions at the tenant farm in Westport in July.
Economists weigh Trump's impact in RI
Less gridlock in Washington, higher interest rates, a strengthening dollar and the pressure to contain health-care costs are among the topics that economists suggest may impact Rhode Island's economy after Donald Trump's presidential win Tuesday. The Providence Journal has insight from economists Len Lardaro and Paul Harrington, and Department of Labor and Training Director Scott Jensen.
Photos: Comic Con hits Providence
Thousands of people flocked to Providence this weekend for Comic Con at the Convention Center – many of them dressed as their favorite hero or villain. Check out some of the colorful characters in The Providence Journal's photo gallery.
Local departments find social media key to engaging with community
When Dartmouth Police Detective Kyle Costa switched on the national news, he just happened upon a segment he never expected: the anchor introducing the Dartmouth Police Department's clown video. With a couple viral videos to his credit and close to 9,000 followers of the Dartmouth Police Department's Facebook and Twitter accounts, Costa is a shining example of how area public safety departments are making use of social media. The Fall River Herald News has more on how departments are using it for community outreach and a crimefighting tool.
Special town meeting set for Monday in Somerset
The 25-article special Town Meeting to be held Monday at 6 p.m. at Somerset Berkley Regional High School contains high-ticket items that are not expected to generate much controversy. The spending of $1.8 million for new water meters in 6,500 homes, $850,000 for sewer pumps, both from enterprise funds, $137,000 for two years of police patrolmen contract raises and $106,000 for capital improvements at two schools claim the biggest bills. The Fall River Herald News digs in deeper.