Circulator leading to downturn in business
You would expect that people in the travel business would know how to get to work…and they do. But the salon that shares the building with Global Excellence in Apponaug doesn't want their customers to travel to Timbuktu to get a perm. That's stretching it. Some Wavy Daisy clientele, however, figure the salon has gone out of business because they can see the establishment but can't get there. The Warwick Beacon has more on that, plus when another stretch of 2-way traffic is set to go into effect.
Save lives, protect your own
In partnership with the Ocean State Immunization Collaborative, the Rhode Island Blood Center is giving Rhode Islanders to chance to do both by offering flu shots at a blood drive on November 22 at the Crowne Plaza Hotel in Warwick. Donors are eligible to win a pair of Patriots tickets. The Warwick Beacon has the details you need.
Project seeks to improve Stillhouse Cove
Stillhouse Cove has seen a remarkable resurgence in recent years, and marked a number of milestones. Now, thanks to federal grant funding and a collaboration between Cranston, the Edgewood Waterfront Preservation Association (EWPA), and Save The Bay, plans are being developed to help preserve the progress at the local landmark while improving the water quality of Narragansett Bay. The Cranston Herald has more on the cove's significant history.
Local jeweler gets line in Nordstrom
A local jewelry designer has created "a modern interpretation of vintage looks" with her line of necklaces, bracelets, rings and earrings that can now be purchased at Nordstrom stores around the country. Loren Barham, the founder and designer at Loren Hope jewelry, lives in Narragansett and creates her jewelry in her East Greenwich office. The East Greenwich Pendulum has more on how a military wife's hobby turned into a full-fledged business.
On the Rocks: Rockville Mill faces foreclosure
The groundbreaking ceremony for the Rockville Mill affordable housing project on July 18, 2011, was a festive afffair. Among the numerous state and federal dignitaries attending the ceremony were U.S. Sens. Jack Reed and Sheldon Whitehouse and Gov. Lincoln Chafee. Five years later, after a litany of problems, The Westerly Sun reports there is speculation that the project might be headed for foreclosure, and some question whether the village of Rockville was the right choice in the first place for a multifamily complex.
Showers among sticking points in rest stop debate
The Zoning Board grappled with mixed use permit issues Thursday as it continued to review testimony from the public hearing on a proposal by Love's Travel Stops & Country Stores of Oklahoma to build a truck stop off I-95 at Exit 1. As the Westerly Sun reports, showers are among the parts of the projects that board members are considering.
New Republican Filippi names minority whip
After registering as a Republican early this week, state Rep. Blake A. Filippi, who represents the 36th District towns of Block Island, Charlestown, South Kingstown and Westerly, was unanimously elected the first millennial House minority whip by the House Republican Caucus. The Westerly Sun has more on his new role.
Narragansett voters give OK to library bond
The only question on the ballot specifically relating to Narragansett came in the form of a $5.8 million library bond issue, which was approved last Tuesday. The town-wide vote was heavily in favor of question 8, with 67.9 percent of total voters choosing to approve, while 32.1 percent of voters were opposed to the proposal. The Maury Loontjens Memorial Library is proposed to go into the location of the former Belmont Market in Pier Marketplace. The Narraganset Times has more on what the bond money will pay for.
SK council approves new ambulance
Monday's town council meeting saw the renewal of many business and liquor licenses and the approval of several resolutions. The town council unanimously approved of a resolution authorizing an award of bid for a new ambulance. The ambulance, a 2016 Ford E-450, will replace one of the town's existing ambulances. The vehicle will cost $187,498, including trade-in. The Narragansett Times has more on why supports say the new wheels could actually protect the first responders.
Berard shares cautionary tale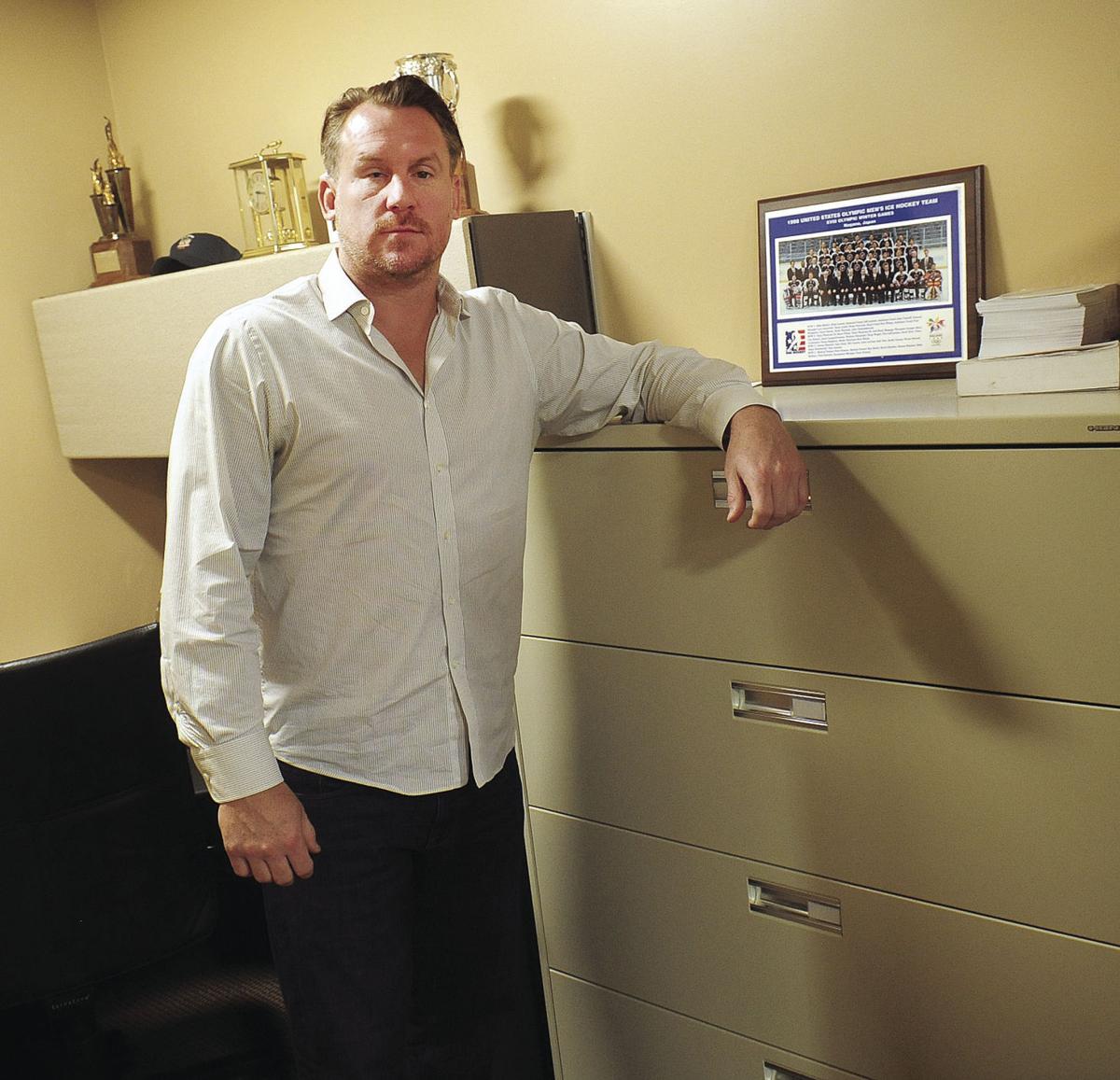 Bryan Berard never sought pity upon learning his long-time financial adviser had squandered the $3 million-plus gold-plated cookie jar that had been placed aside with the firm intention of kick-starting his post-hockey career. The shock-to-the-system scandal helped in launching Berard into a 9-to-5 world that has enabled him to find a silver lining within the troublesome experience he endured. Brendan McGair has the story in the Woonsocket Call.
Lincoln animal rescue in financial dire straits
When Broken Tail Foster and Rescue of RI drove to Georgia to rescue dogs from a pound in August, it bit off more than it could chew, and now the nonprofit is asking for financial help to keep its operations alive. Rescue workers planned to take 15 dogs – but ended up with 40. Now, it's in the financial dog house. The Woonsocket Call has more on how the rescue it now turning to the public for help.
Educating parents key in fight against substance abuse
Officials with the Cumberland and Lincoln Prevention Coalition frequently educate children about the dangers of abusing drugs and alcohol. Coalition members now have an additional focus: Teaching parents how their offspring might be covering up their use of illegal substances. Learn more in The Call and The Times.
Li'l General keeps growing over the decades
Opening up a Li'l General store never gets old for Roger Lapierre. After nearly 50 years, the businessman was recently helping owners of a new franchise get settled at a longstanding store in the North End of Woonsocket that is being renovated. Retirement is out of the question, the 77-year-old states in a story in The Call.
Reverdes is read to rumble
Some people might think 48-year-old Joe Reverdes is just an ordinary guy that works two full-time jobs to make ends meet. They might have a different opinion, however, once they find out Joe is a mixed martial arts professional who has a bout coming up on Nov. 23. Read the story by Jon Baker in The Call and The Times.
Assessing political landscape after Trump win
After a contentious election cycle that saw longshot presidential candidate Donald Trump win against the heavily favored Secretary Hillary Clinton, local leaders look ahead to assess what national political changes mean for the state and its residents. The Johnston Sun Rise gets reaction from town leaders, including Mayor Joseph Polisena.
NYC skyscraper developer has RI political connections
Providence wasn't anywhere on Jason Fane's radar three years ago. But then he hired Gad Regensburger, who has strong ties to the capital city through his decade-long friendship with Providence Municipal Court Chief Judge Frank Caprio. The Providence Journal details how it all played out from there.
New podcast digs into Providence's mafia history
Dirty cops, crooked politicians and loyal mobsters — Providence's rich history of crime and corruption is featured in the new podcast "Crimetown" debuting Sunday. The series is meant to explore misdeeds in an American city. Providence, with its notorious history of mafioso and corrupt politicans, is the focus of Season One.
East Providence water tower getting facelift
You can spy the hulking water tower just about anywhere you go in and around Kent Heights. Shaped like a golf ball on a tee, the bulbous, 1-million-gallon tank stands 175 feet above the rooftops of East Providence's highest neighborhood. When erected nearly 20 years ago, it was painted light blue. But for quite a few years, rust has turned it into an eyesore irksome to neighbors. The Providence Journal has more on the project.
UMass Dartmouth creates all-gender bathrooms
About 20 transgender UMass Dartmouth students and other gender nonconforming students, now have more, possibly safer options for using the bathroom. The school recently converted about 62 existing single-occupancy bathrooms to all-gender, 80 percent of which are handicap accessible, including a map online showing where they can be located around campus. Bathrooms are indicated with a handwashing symbol and those that are wheelchair accessible include the International Symbol of Access. The Fall River Herald News has more.
Funding Fall River pension system becomes critical
Bob "Chipper" Camara had retired from a 38-year career in the city's fire department when a few years later he sat before the City Council and urged them to pay tens of millions of dollars owed that year to the retirement system on time. The request wasn't for just himself but on behalf of the city's retirees as he watched the pension system fall into drastic debt. The Fall River Herald's digging into this issue.
Fall River native named real admiral
She has come a long way from growing up in one of the city's housing projects for the poor to becoming a Yale graduate, successful attorney, decorated military officer traveling the world, and most recently being sworn in as a Navy rear admiral — but for Carol M. Lynch, Fall River will always be home. The Fall River Herald News has more on Lynch's life and career.